I'm looking for feedback on this. It's one thing to toss off a tweet about getting some cool racks and another to write over 1500 words about it. Please email me or tweet at me or find me in person to talk about this! Thanks to Workantile for helping me think through some initial ideas with this.
TL;DR: Ann Arbor should replace 20 downtown bike racks with racks designed by local artists and fabricated by local metalworkers. We should expect this to cost around $50,000 and consider every penny of it well spent.
I want a biker's favorite bike rack to be shaped like a burr oak.
I want to be able to tell people asking for directions to turn right at the bike rack shaped like an apple.
I want tourists to stop to take selfies with a bike rack shaped like a UM football helmet.
I want this bike rack to be shaped like Vault of Midnight's skull logo: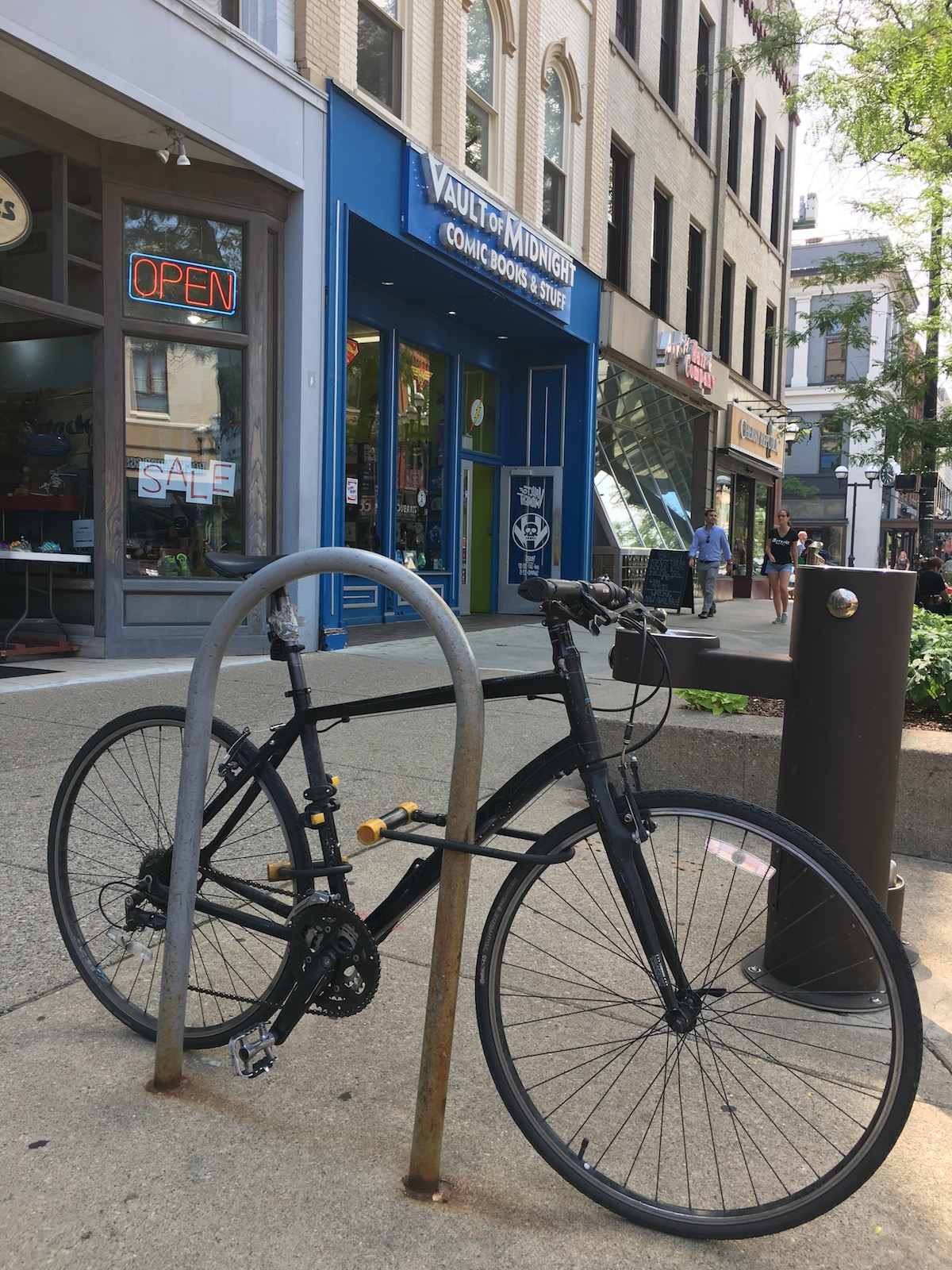 I want our streets to be full of unique art.
Bike Parking in Ann Arbor: August 2018
Parking a bike in Ann Arbor is straightforward and getting better all the time. Most of the time there's a functional black hoop where you need it. Baring that, a sign or a tree will do.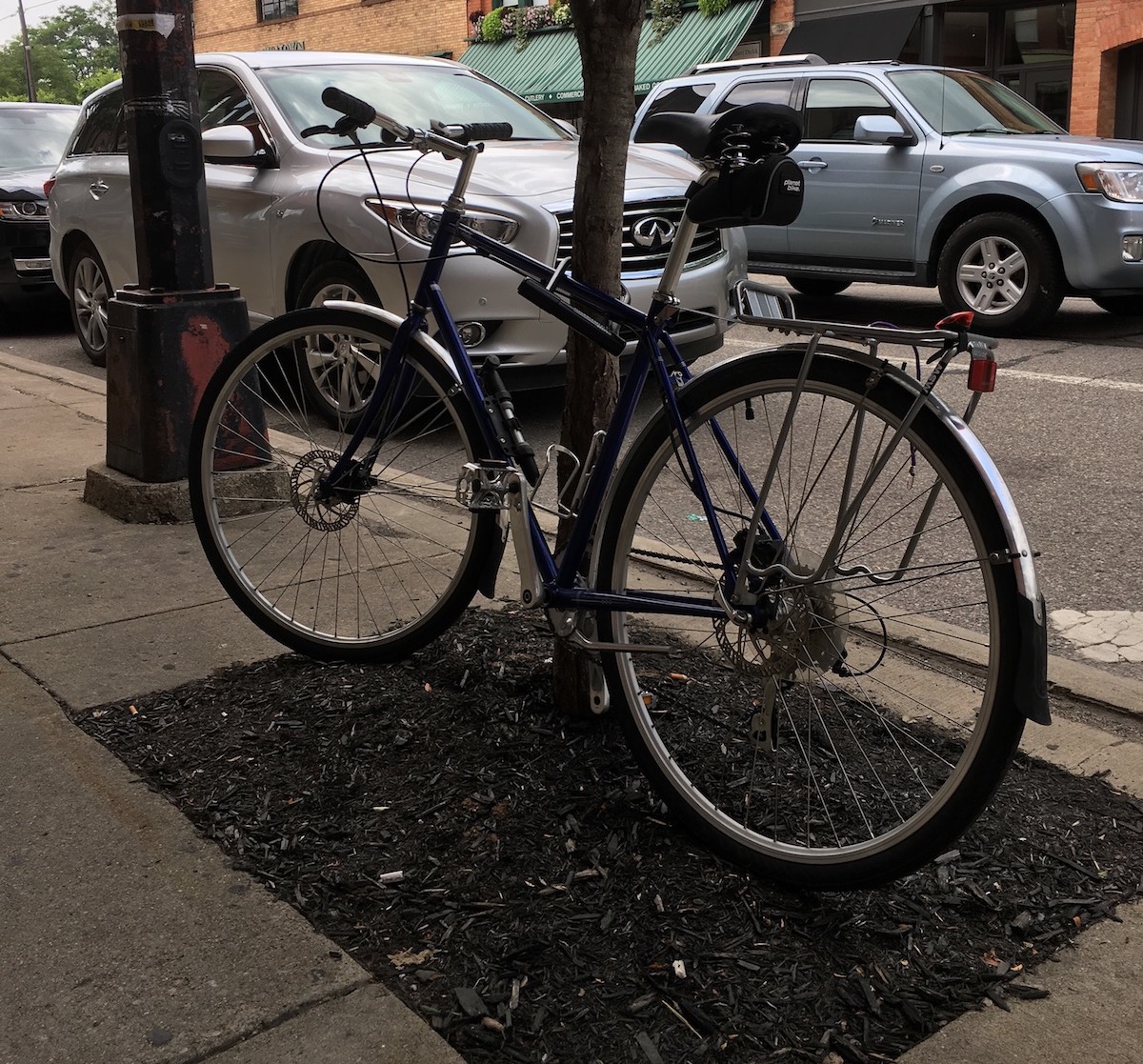 And lately the DDA has been installing more bike corrals. The DDA and Ann Arbor's City Council are doing amazing work responding to biker's needs and I applaud it. Last night they unanimously voted to make a few big changes to downtown streets that also include protected bike lanes, which—wow!—what progress!
You can read more about that on the People Friendly Streets site.
Sam Firke recently tweeted about a particularly bad set of racks that I happen to use almost daily that I hadn't fully considered: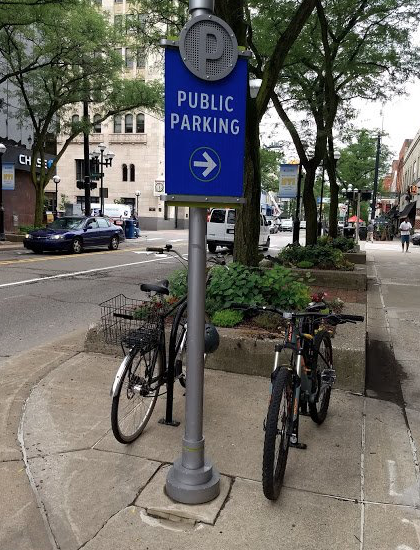 I've fought to get my bike around that pole more than once and even cut my head on the wayfinding sign. The DDA snapped into action and began work to remove the sign and the pole. This week they even put in a bike corral right next to the offending racks! Today, August 10th, there were four bikes on it already: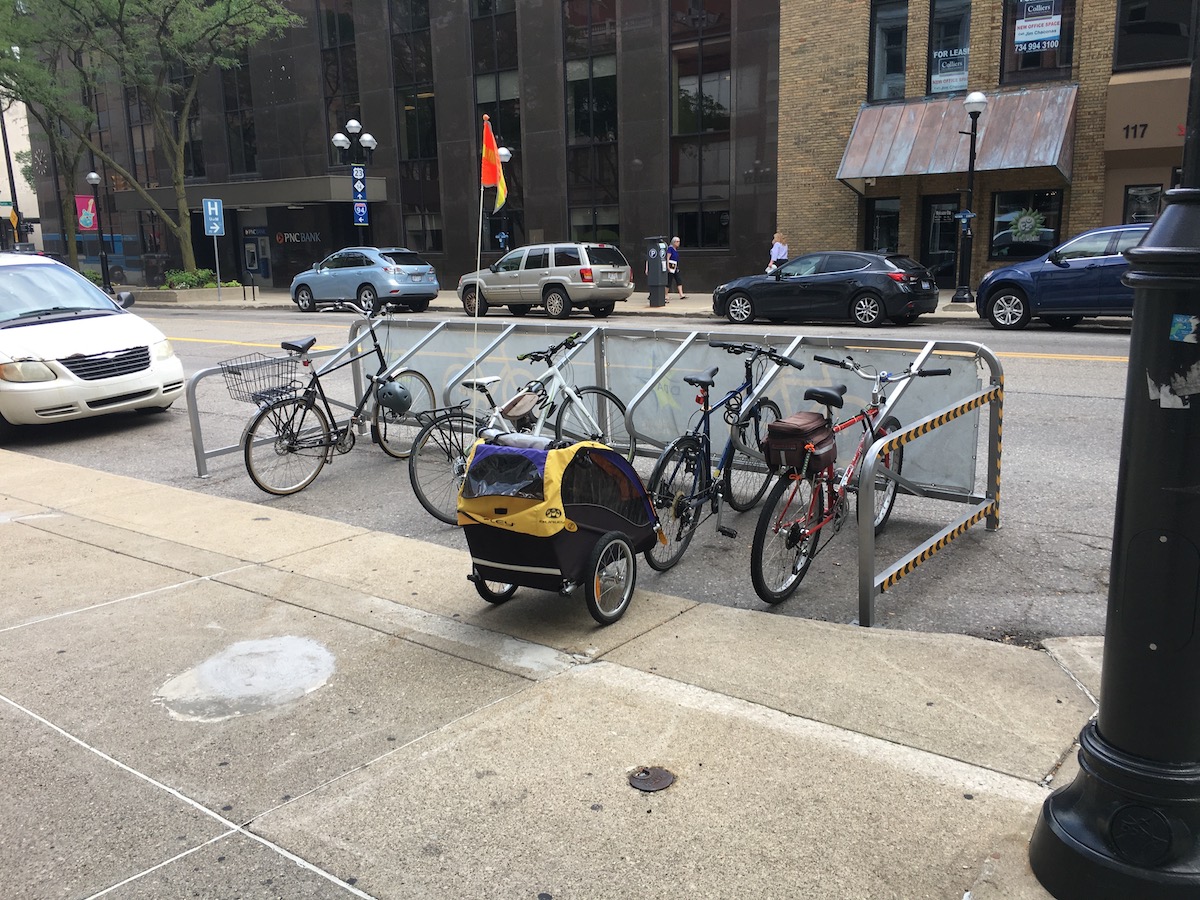 All of this has gotten me scheming and thinking about bike racks in Ann Arbor. We're in a good place in that we have many functional places to lock up a bike in town, but they're pretty boring.
What if that wasn't the case though? What if the bike racks in Ann Arbor were fun and interesting and something that people in town and tourists talked about and enjoyed?
I think this is a great opportunity–and a rare one!–for the city to blend functionality and art in one project.
Public Art is important and bike racks are an untapped canvas
Opinions on "Leaven" the metal leaf art on Stadium range from "That's a neat idea that wasn't executed well" to "I don't get it" to "Fire all of city council immediately for letting this happen". You can read more about it at mlive. suffice to say, it cost $100,000. I'm not quibbling with the cost. That's entirely fair for what went into a piece like that. It does, however, give us a good baseline for thinking through the size of projects the city is ready to take on. In fact, the city has been working on a list of other public art pieces that will cost around 2 million dollars.
I'd like to see one additional item added to this list and prioritized toward the top: artistic and interesting bike racks.
Electrical box wraps and manhole covers
Max pointed out on a slack conversation that the city's electrical boxes recently got wrapped to be more interesting. This is a small thing, but adds much needed visual diversity to the city streets. Beautifying a functional piece of the city is a great way to do this.
We also recently had a design contest for manhole covers. 3 artistic designs chosen to adorn Ann Arbor manhole covers | MLive.com:
"The City Council voted 10-1 in December 2016 to approve a $27,000 contract with the Art Center using money from the city's stormwater fund to manage the design-selection process….The council also authorized the city administrator to approve up to $27,000 in amendments to the contract."
Manhole covers are a great example to follow for bike racks. They're similar in that a lot of them are needed throughout the city while also acting as an approachable canvas for an artist to do something unique.
Local Business Funding
If the city can't fund it entirely we can enlist the help of local businesses. I think it'd be an easy sell to allow local businesses to fund the racks in front of their locations. They can afford it, their employees (and potential employees) would think it's cool, and it'd allow them to have a tangible way of giving back to the community.
What if this was shaped like Workantile's diamond-plate logo?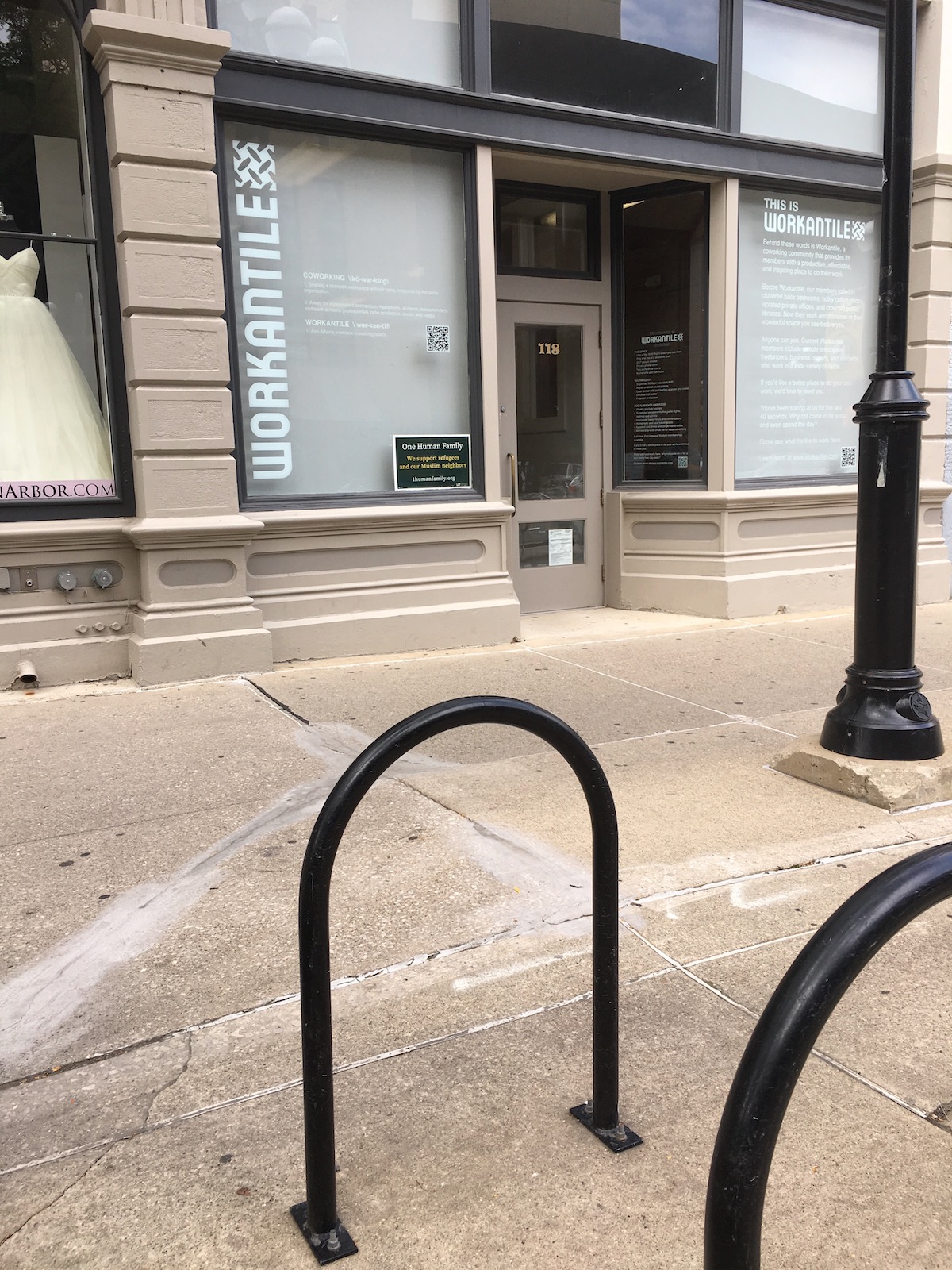 What if this one was looked like an artist's palette?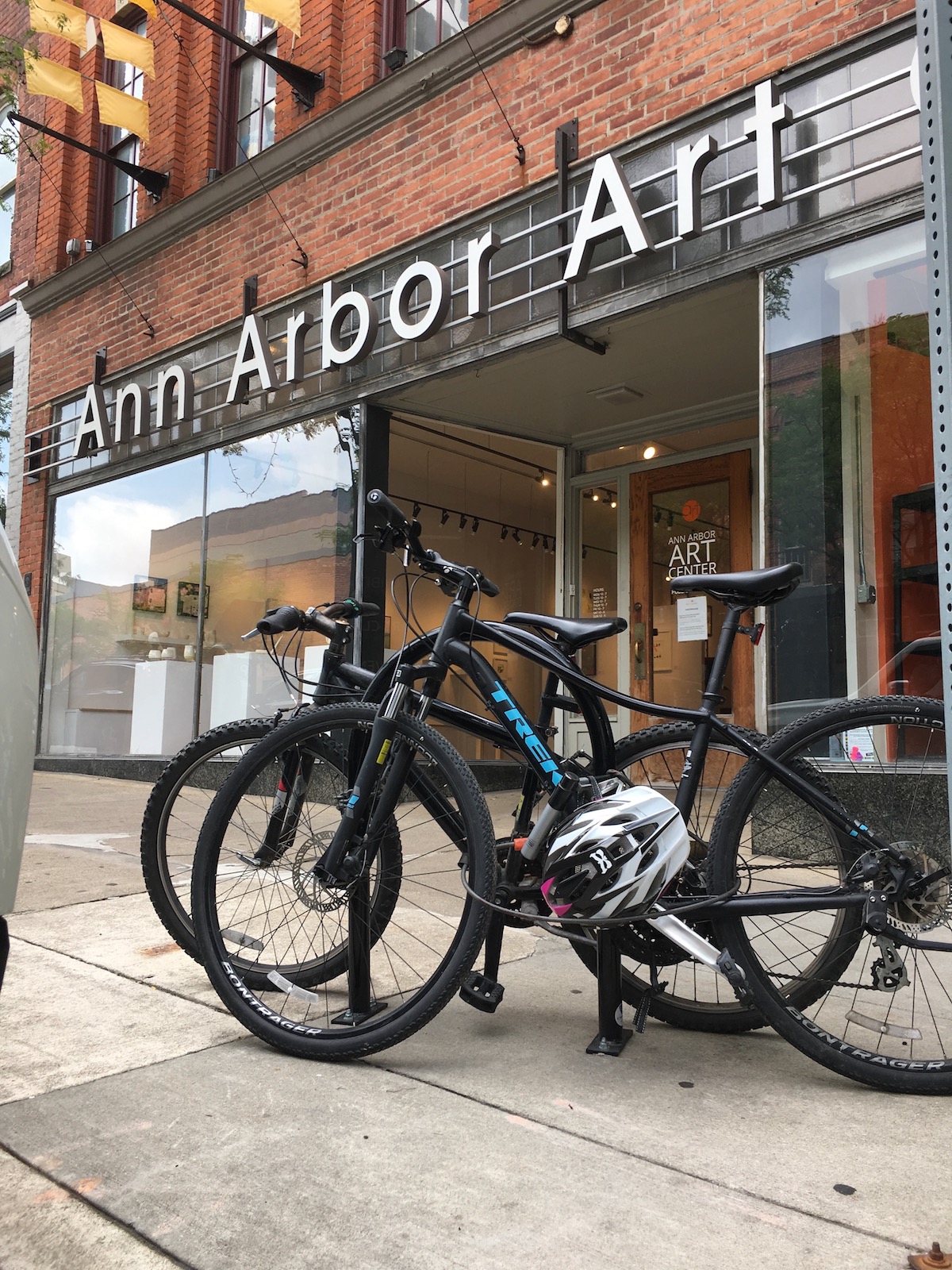 What if this was shaped like a whaling ship from Moby Dick?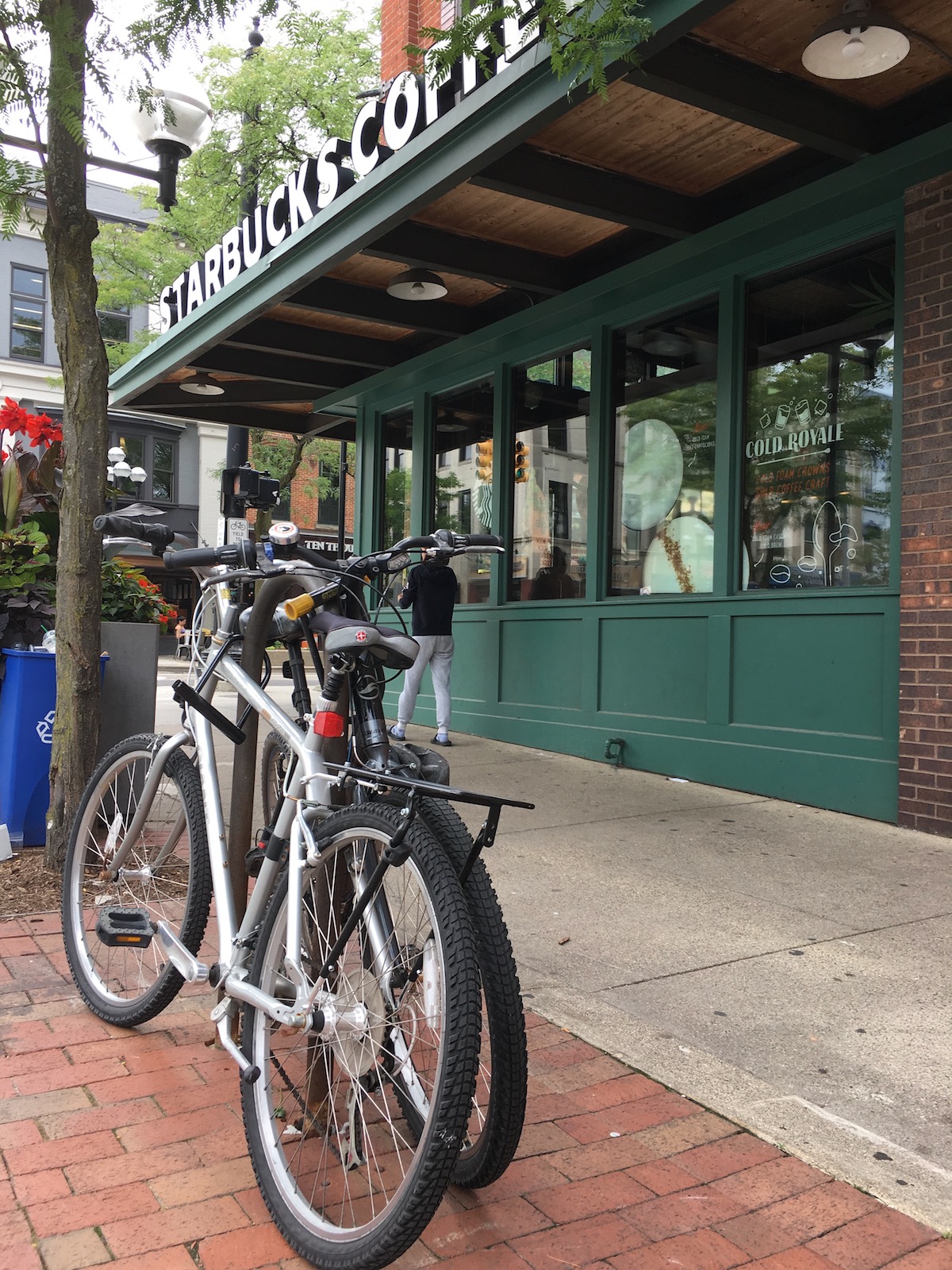 I look at this like the ice sculptures that pop up on main street every year: it's a great thing that a business pays hundreds of dollars for once a year and is extremely temporary. What if for $1000 a business could fund the cost of a rack that has a plaque on it all year round?
Bike Racks
Ann Arbor had/has bike racks that have "ART" on them. This is..well, it's not great. I managed to track down one of the last remaining ones in town in front of DUO's building. I'm sure this is what clinched it for CISCO: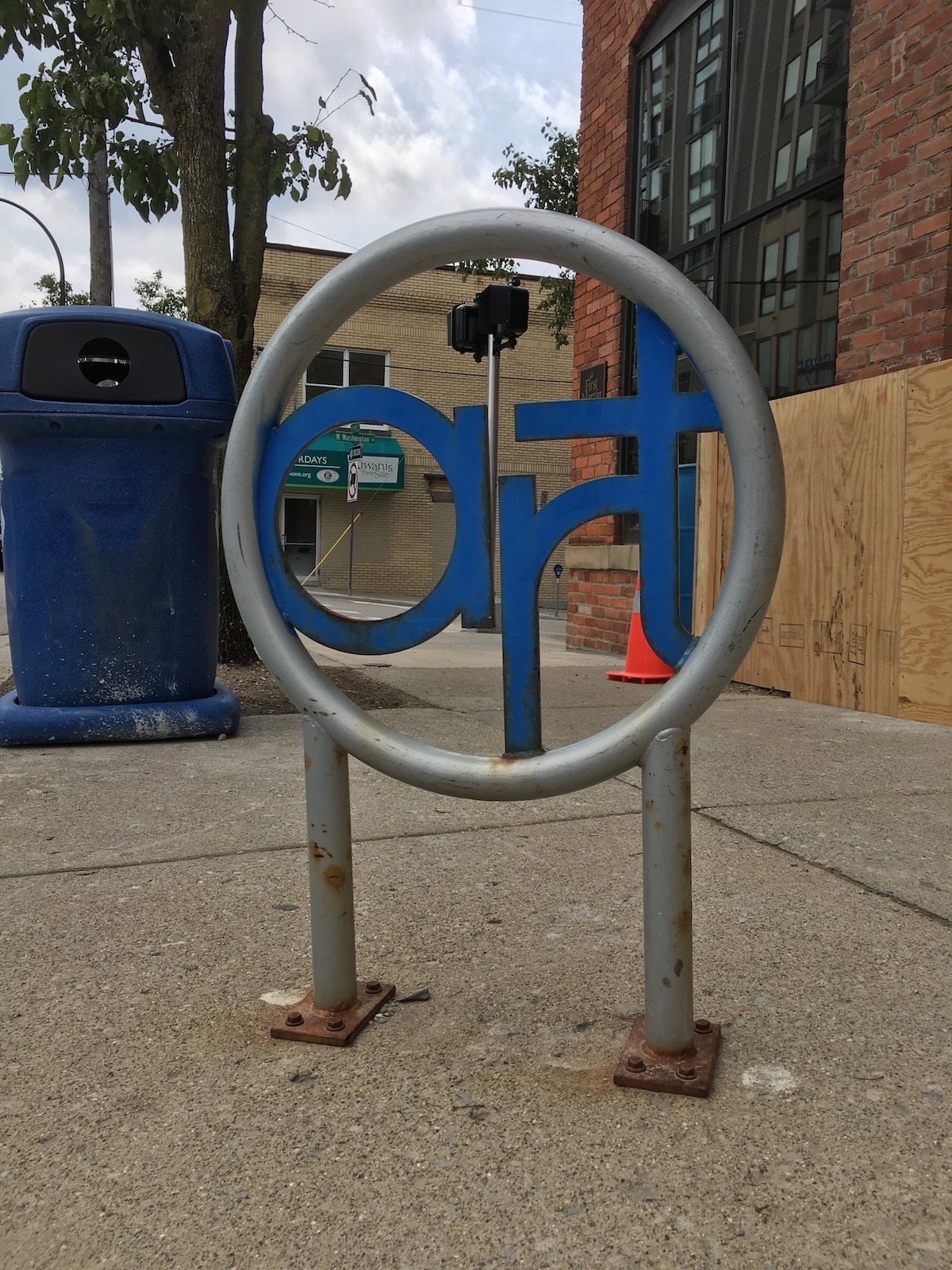 And from the back: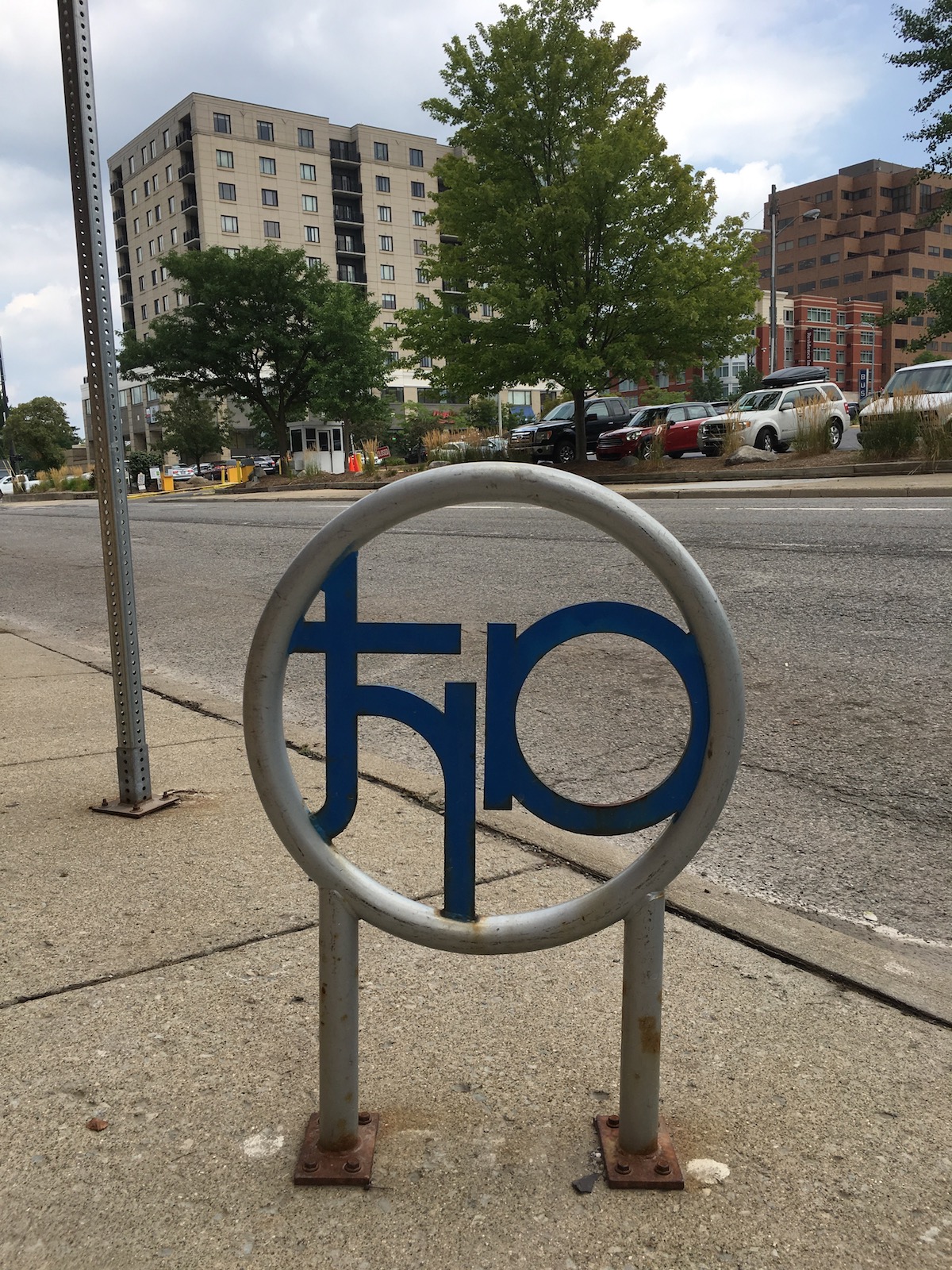 These have mostly been disappeared and replaced by simple black/gray racks. Functional and boring. At best they blend in.
Other places have used their bike racks as a form of self-expression. We would not be trailblazing new ground here, but it would be new territory for Ann Arbor.
Here's some pictures I took last year of the racks in Toledo: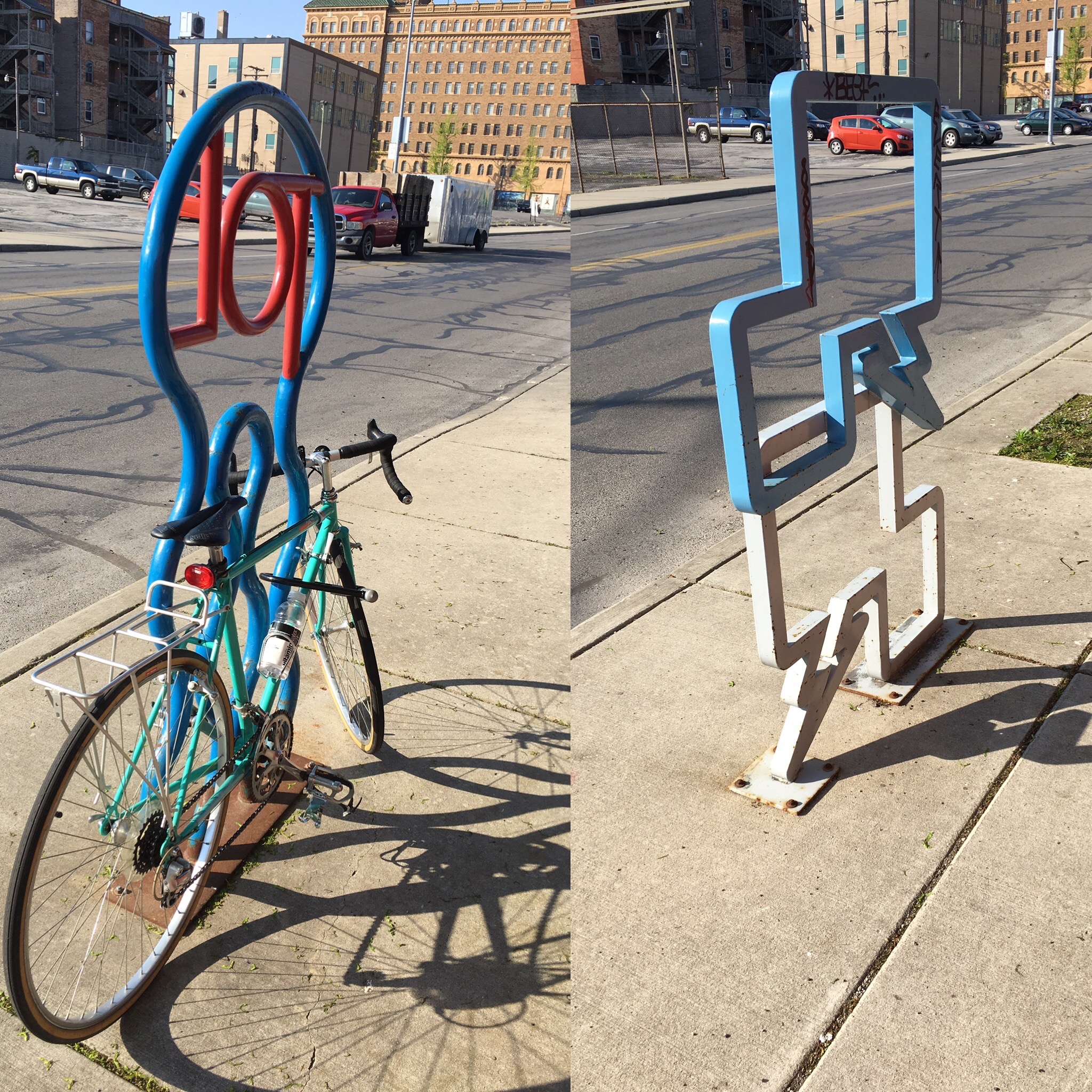 Here's a link to more racks in Ohio. Apparently they have this figured out. If you only click on one link make it this one: Bike Racks in Ohio Flickr Set.
Here's some more options from around the world:
Numbers and Budgets
You can go online right now and buy a lot of different bike rack designs from The Park Catalog.
Out of curiosity I called them about their "Turtle Bike Rack" to get an idea of the price for what I'd call a fairly complex and unique design: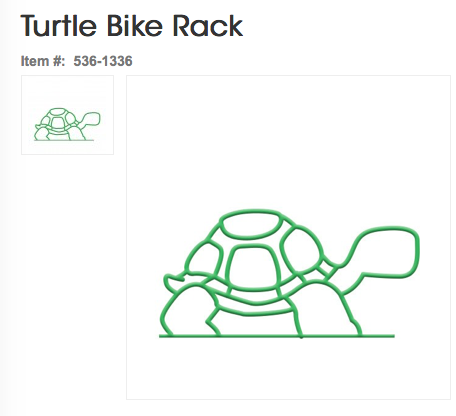 1 turtle would be around $1500 shipped from Minnesota. If we got multiples of the same design there are even price breaks that'd bring it down closer to $1000. This is on a fairly complicated design with many bends and welds. I'd imagine others would be cheaper.
$1500 is not nothing! It's also not so much that we couldn't have every bike rack in Ann Arbor be a turtle.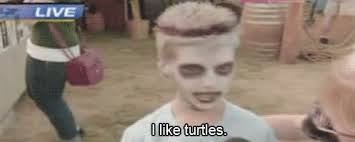 There's also the option of doing smaller laser cut design in a standard rack. Pretty much any simple design can be laser cut into a rack for around 450 dollars: Custom Logo Laser Cut Panel Themed Bike Rack – The Park Catalog.
Keep It Local
The Park Catalog manufactures everything in Minnesota; however, I don't think the city should opt for buying racks from an online vendor. A bike rack is not a complicated object. They only need to have loop of strong material that is firmly attached to something that is unlikely to move. Bent metal attached to a concrete sidewalk will suffice.
I think we should hire local artists to design the racks and local metalworkers to make them. It will cost more, but will also give the city and its residents a sense of ownership. Ann Arbor likes to pay lip service to being an artist friendly town, but in practice we don't do a lot publicly to support them. I would like us to have slots available for 20 local artists to create a design. Manufacturing can likely be done at a variety of welders in town too.
Isn't this wasteful?
Yes, probably. I had a long argument about how it isn't, but the reality is that it likely is to some degree. No, we don't need this for our city to function. I do, however, want to live in a city that does things like this. I think a lot of us do.
Conclusion
If Ann Arbor does this, I think it shows that:
We care about local artists and artisans enough to hire them to make art
We care about non-car modes of transportation by continuing to have functional and well-placed bike racks throughout the city
We care about public art and the beautification of our streets
Don't you want to live in that kind of town? I do.