TL;DR: It went well and there's a big announcement about Issue 2 (spoiler: get ready, the rest of Michigan, it's your time to shine)!
Go read the Ypsi-Arbor D&D Gazette Issue 1!
Want to make sure you hear about any news about the zine? Sign up here to get updates: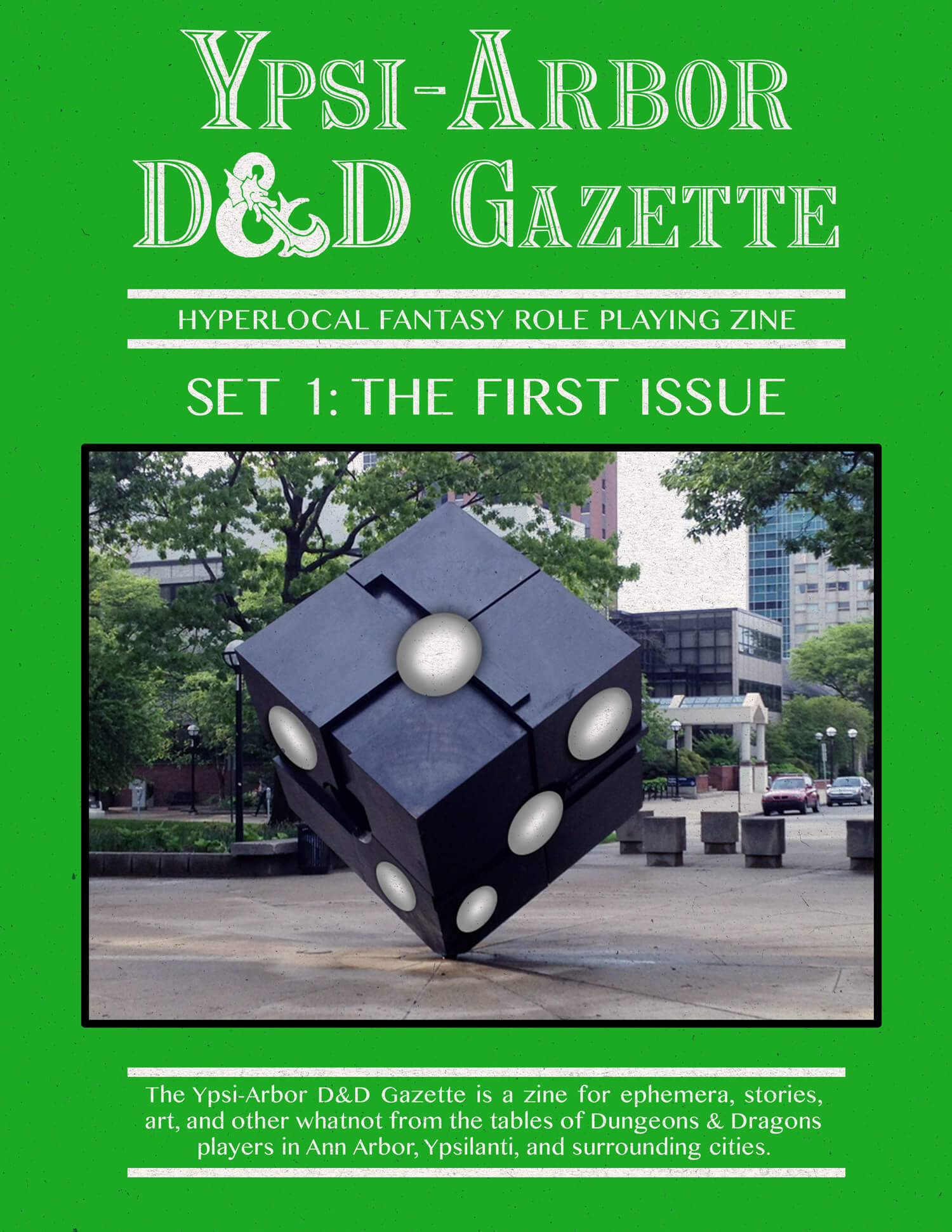 Issue 1 only happened because of people (like you!) submitting their excellent D&D stories and artwork! It was great seeing the D&D Gazette go from half-baked thought to a group coming together to make a thing.
The Numbers
Before publication, there were some soft numbers for what I'd consider a success for submissions and people actually reading it. All told, we hit them, which is heartening! The big banner number was "will 100 people read stories from Ypsilanti and Ann Arbor D&D players?" It looks like the answer is yes! In fact, we reached twice as many readers.
For actual traffic to the zine itself we got a big boost due to timely retweets by friends and by local sportswriter @mgoblog who said the nicest thing about it: "a new challenger for Most Ann Arbor Thing appears… "
Here's the traffic pattern from May 7th-15th, which was about the only time there was active "marketing." As soon as I stopped actively pushing it the traffic disappeared: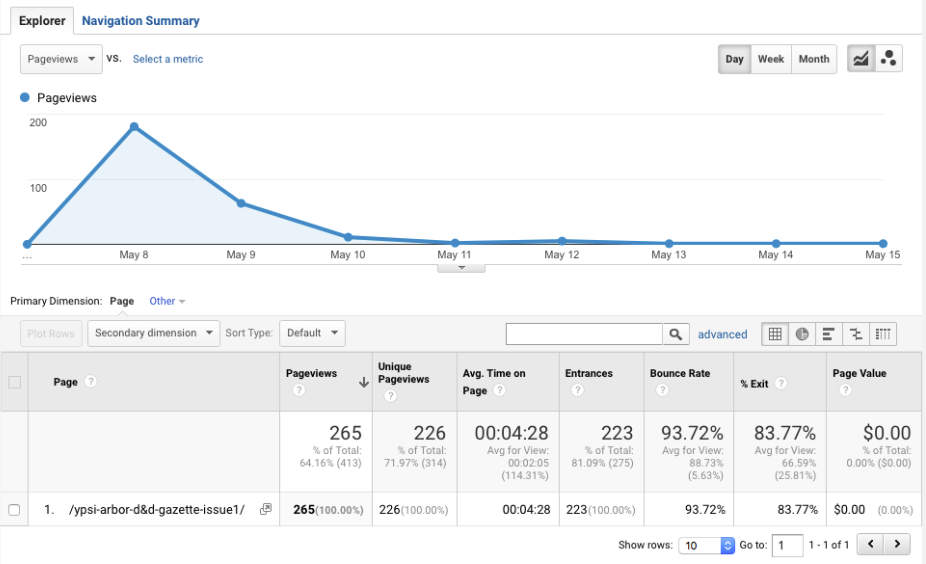 Note: For those of you who know about analytics I have high confidence that this is mostly legit traffic due to how the URL was shared.
Additional Note: Page value is $0.00. That should read "there is no greater reward than the friends we made along the way (and also pageviews)."
What went wrong?
Oh, so much. Mostly, though, it all comes down to getting the word out. There's so much happening all the time. In addition to the country burning down, there are a million and one other creative things to pay attention to. Rising above that, even for a minute, is a gift.
The "marketing plan" consisted of a hastily constructed email list, a handful of blog posts, and a few tweets. An anemic plan at best. I did, however, want to see how far it could go with just that, and it went a lot further than expected. When it came time to "release" I did a catastrophically bad job of putting the tweets together. As I noted in the tweet that ended up actually getting shared around, I didn't even attach the cover image to my initial tweet. So then the one that got shared contained an apology about the cover image. Not the best look.
Issue 2 Will Be Issue 1
Many, many people responded positively to the first issue and that is amazing! One submission has already come in for the next issue, and Hannah Davis reached out volunteering to copy-edit, which is so sorely needed! After launch there were a number of typos that were brought to my attention.
It's really fun to go from an idea to finished and shipped work. It's also very hard because when it's not bringing in money and is entirely a non-mandatory side project, your other options for how to spend your time are "literally anything else." But, collaborating and making something like this is tremendously fun. We're going to give it another shot. I believe in me, and I believe in you. Together we can make this happen. Go Team!
So, without further ado: for the second issue we're going to expand our geographic reach to the rest of the state with the:
Michigan D&D Gazette!
If you seek a pleasant peninsula, look about you, and roll initiative, because it was absolutely a trap.
I toyed with the idea of calling it "Ypsi-Arbor D&D Gazette Issue 2: The Michigan Edition," but as funny as that is, it's a mouthful. "Michigan D&D Gazette" will work.
Tell all of your friends across this great state that their stories, artwork, DM notes, one-liners, and ephemera are needed. If you have a submission already, send it on over to my email at csalzman@gmail.com. A more formal call will go out in a few weeks.
Thank you so much for following along so far! Sign up for more news, or watch this blog!
See you in in the Michigan D&D Gazette!